Our Story
A passion for quality and presentation is what led to the creation of Thyme & Place Café. Having worked in the manufacturing side of the food industry for over 25 years, it was time for owner Leslie Philip to shift focus from big to small and local, creating a community in a town that sought food from local growers and producers.
Thyme & Place Café is a cross-section of restaurant, caterer, and community kitchen, where entrepreneurs can rent to produce and bring their products to market. We assist with product development, labeling requirements, health department regulations, with some pep talks added for good measure.
Located at the intersection of culinary and community, Moore County and social media have welcomed us, helped us grow, and provided us with smiles and lasting friendships.
We look forward to hosting you at our Café, catering for your event, baking for a special occasion, or just because you want to add something special to your day.
Meet The Staff
Leslie Phillip | Chief Egg Breaker - what kind of crazy idea did I have to open this Café? Hard to answer that, but along the way we've made some wonderful connections, friends, and continue to make guests happy through our hospitality and food.
Chef Ashley Sanderson| She comes from Vermont, and is overall amazing. She can process a side of beef for winter storage and then cook everything from high level gourmet meals to cafeteria food. Her training and experience have brought her around the country and we are so lucky to have her.
Jari Miller | Her experience as a production baker in her own business has benefitted us tremendously, from her beautiful presentation to the variety of products that she makes. Each Christmas she used to bake over a ton of Italian cookies, made products for seven farmers markets, and now she treats our customers sweetly.
Missy Chapman | Hired as a dishwasher, but she's so much more! Missy knows where everything is stored, helps our cook, loves our customers and they love her too. Basically she keeps everything running smoothly whether at the café or during catering events.
Patricia Violette | She hung around the Café, so we hired her! She helps with our meals to go, labeling, and keeps us laughing.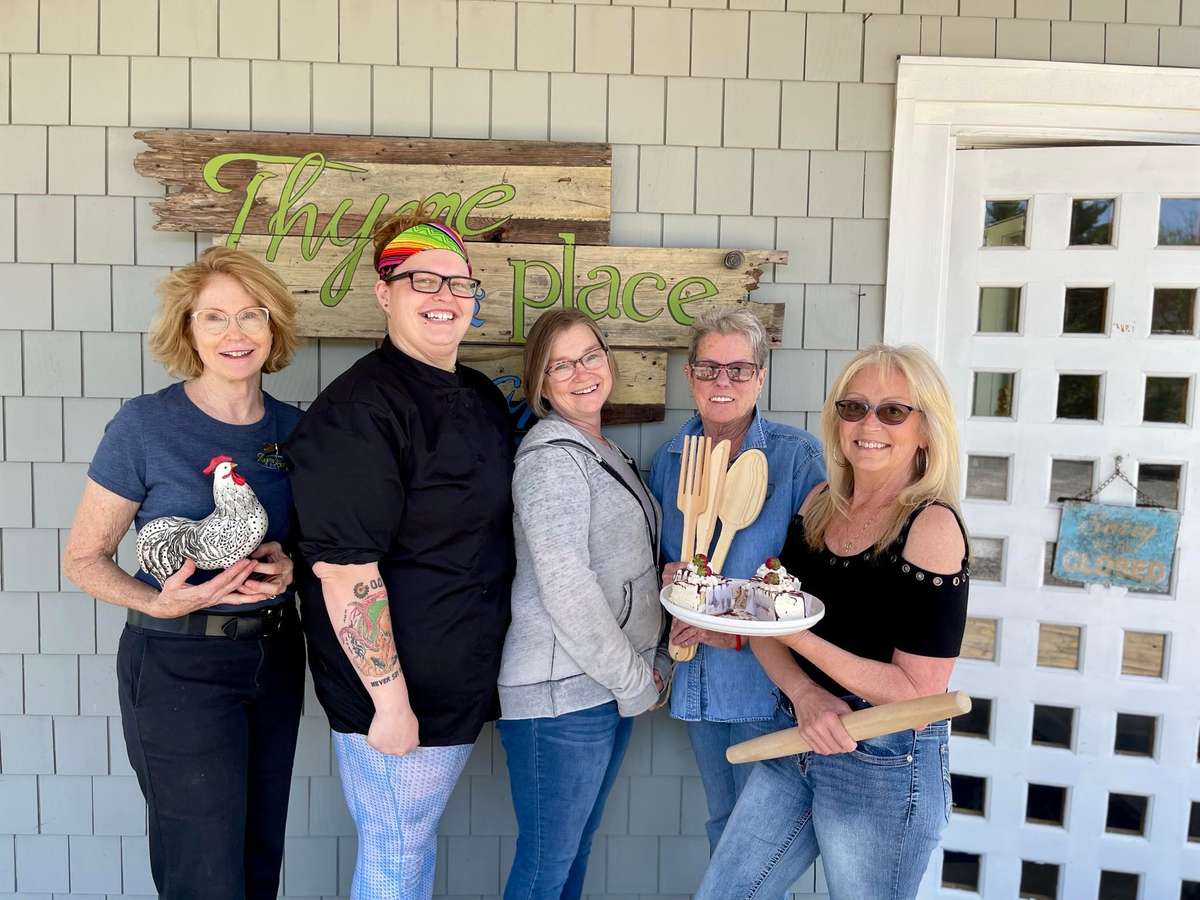 Chief Egg Breaker Leslie, Chef Ashely, Does Everything Missie, Organizer Patricia, Baker Jari